Vincent Van Gogh spent his last days in Auvers sur Oise, in the north of Île-de France. Inspired by the idyllic countryside, he painted approximately 70 pictures in about as many days. In spite of the beauty around him, these were dark days for Van Gogh, culminating with his suicide in the fields of Auvers.
On a Sunday morning, we arrived in Auvers sur Oise. Our first stop was the easy-to-find tourist office, where we picked up the leaflet Parcours des peintres de la Vallée de l'Oise. This map highlights locations in Auvers and neighboring Pontoise painted by Van Gogh, Camille Pissarro and other 19th century painters. Along the walk, each viewing point has a signpost with the relevant painting, facilitating comparison.
This is cool not only from an artistic but also historical perspective as it allows you to see how much (or in some cases, how little) has changed in a little over a century. Jordy and I visited about 20(!) of the 29(!!) places and below are the highlights, along with the paintings (albeit faded and sometimes a partial) so you can compare, too. 🙂
I love the following painting, L'Église (on display in Musée d'Orsay in Paris). Van Gogh transforms a simple church, a symbol of hope and love, into something mysterious and almost nefarious, yet at the same time, giving the building more life and vibrance.

Stairs leading to the church; L'Église (The Church); the Church of Auvers sur Oise
The grave of Vincent Van Gogh is next to that of his brother, Theo Van Gogh, in the local cemetery. Theo Van Gogh exemplies filial devotion, having supported his brother devotedly, financially and emotionally. Sadly, he passed away just months after his brother's death.
Near the cemetery, there are many beautiful, wide fields, perfect for a quiet country walk.

We were getting hot from the sun and took a break in the Van Gogh park. It was the presidential election day (1st tour), and a voting area was set up next door. The first two candidates on the left are Olivier Besancenot and Marie George Buffet, candidates of two different communist parties. The extreme left made a much smaller impact on this election than in the last one, and we all know who ended up winning this time… 😐
Below is a painting of the Auvers City Hall. It is festooned with flags and decorations, yet it is completely deserted. Looking at this painting made me feel sad for Van Gogh, but when we visited the real one, it was completely empty, too! So…. 😳
In the middle of our walk, we stopped by La Maison de Van Gogh, the Auberge Ravoux (hours & rates here), the inn where Van Gogh rented a room for his final days. The bedroom of Van Gogh, and the stairwell leading to it, have not been altered since his days, so you get a sense of what a 19th century inn was like. Very small rooms and claustrophobic! His bedroom is tiny and unfurnished (save this chair), lending it a somber air. This is where Van Gogh spent the last 2 days of his life after mortally wounding himself, uttering his last words, « sadness will last forever » (la tristesse durera toujours).
A 15min. film is shown as part of the museum visit with images of Van Gogh's work in Auvers, but was not very memorable for me. The ground floor of the inn is a somewhat pricey restaurant (info on same website) today.
Afterward, we headed to the Chateau d'Auvers (hours & rates here), or Chateau de Léry, on the street of the same name. Fallen into neglect, it was acquired by the domain of Val d'Oise and restored, and now presents the Voyage au Temps des Impressionistes. This multimedia exhibit presents the work of Impressionist painters and sounded pretty interesting, but we decided to forgo it :smile:. Fyi there is no original artwork here. We strolled the grounds, which is free
, and includes a large park with terraces (perfect for picnicking!), a small labyrinth, an ornamental hedge garden (below) and this small funny garden which includes life-sized, standing representations of images from famous paintings.
Auvers sur Oise's other famous resident is Doctor Paul Gachet, an amateur artist himself, who kept company with the likes of Pissarro, Cézanne and… Van Gogh, whom he aided during his stay. His portrait (of which there are 2) is one of the most recognizable works by Van Gogh. One is notorious for having fetched the highest price of any painting for $82,5 million
! It's the one you see below and has since then (1990), been in private hands.
The other can be seen at the Musée d'Orsay … though it was on loan when I went there in May 😡 ! But thank goodness for museums! The house of Doctor Gachet (hours & rates here) is on the street which bears his name and displays correspondence between the doctor and Van Gogh.
Jordy & I continued our walk west of Doctor Gachet's house, as along this street, continuing on rue François Coppée to rue des Meulières, there are several viewpoints, including the two below. The originals of the two Cézanne paintings are on display at the Orsay Museum.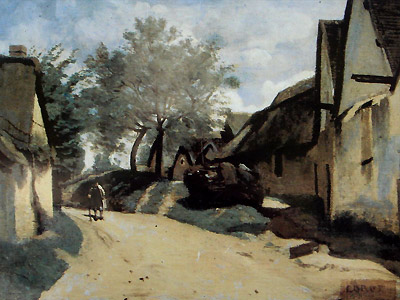 Phew! Walking in Auvers sur Oise… finished!
We had covered alot of ground, spending hours in the heat, and still not seeing everything! But we were tired and decided to head back to Paris, but how…? We wanted to head west towards Pontoise and Paris, but the train station and everything else was behind us to the east. The bus' Sunday schedule is practically nonexistent. Jordy, being the French country boy that he is, gave me a matter-of-fact look as he said, of course! we should hitch. Ok, I'm not opposed
. Jordy stuck out his thumb, urging me to make myself visible (girls being less threatening
) and within 10 minutes, a car rolled to a stop! Actually, it turned out that another train station, Chaponval, was just a few minutes west of us, but hey, free ride 🙄 ! We got out a little before Pontoise to walk along the Oise river, where there are a few more viewpoints.
While Auvers sur Oise is heavily associated with Van Gogh, Pontoise is known through the paintings of Camille Pissarro. The Oise River in Pontoise and immediate environs was a repeated subject of Pissarro's work and can be discovered with a walk along the river, which is quiet and pretty.. though not always well-shaded
! Above, you can see one of the Pothuis islands in the middle of the river.
Yow! We reached Pontoise. It appeared like a small city, versus Auvers, which feels like a large village. There is a high, large stone wall with low buildings built into the side, which you can see at the right of the photo below. This intrigued me and I wanted to see more, but we were both tired and ready to finish the day.
Below, not much difference between modern times and 19th century, ay
?
We took a small detour to scare pigeons (neither of us are fans
) and headed to the train station, which is easy to locate, you just walk through town in a direction parallel to the tracks and bam, you'll see it on your left. Wow, so tiring from all the walking, but alot of fun! Auvers sur Oise is a great daytrip, it allows you to explore art other than by walking through a museum. The village is, in a sense, one big museum
!
Info/Other Links:
To get to Auvers sur Oise from Paris (approx. 1hr, 4,70€): There are various options involving the SNCF, RER and/or bus, and which you take depends simply on your schedule. On the Transilien website, choose « Horaires et Itinéraires » then plug in your travel info. You should also research your return itinerary before you set out, because the train and bus stops in Auvers sur Oise aren't in the same place. The Auvers sur Oise – Pontoise – Cergy bus schedule (line 95 07) can be found here. Auvers has two train stations, Auvers sur Oise in the city center and Chaponval, to the west.
It's impossible to do everything that Auves sur Oise offers in a day! Aside from the walking tour, which itself can take the day, there are many museums/historical sites – the homes of Van Gogh and Dr Gachet, Daubigny House, Daubigny Museum, Chateau d'Auvers and the Absinthe Museum. Aside from all the walking, we only visited the interior of Van Gogh's final residence, which IMHO, is the most worthwhile (coming from someone who didn't visit the others! 😉 )
See the real deal! While by no means the most comprehensive collection of Van Gogh's work (that would probably be the Van Gogh Museum in Amsterdam), the Musée d'Orsay in Paris displays several of his paintings from Auvers sur Oise, as well as those of Cézanne and Camille Pissarro's work from Pontoise. If possible, I'd recommend a visit to the museum after having gone to Auvers.